Get to know our B-FORMANCE Anti Aging device in 180 seconds
Skin Rejuvenation: From creams & peels to anti aging devices.
Anti-aging and skin tightening treatments are becoming increasingly popular. There are a number of methods to reduce wrinkles, fine lines, sagging skin and other age-related signs of aging. The most commonly used anti-aging treatments includechemical peels, dermabrasion, laser resurfacing and microdermabrasion. In the meantime, however, there are also various techniques in the field of apparative cosmetics that have promised themselves to anti-aging.
Chemical peels are used to remove the outer layer of skin to make the underlying skin appear smoother and more radiant. Depending on how deep or light the desired effect should be, different concentrations can be used. Chemical peels can help improve sun damage, reduce wrinkles and even out pigmentation spots.
Dermabrasion abrades the surface of the skin to remove dead skin cells and stimulate the production of new collagen. This technique can help reduce the appearance of wrinkles, age spots, discoloration and acne scars. Microdermabrasion uses tiny crystals or diamond tips to gently exfoliate the top layer of skin to reveal smoother, firmer skin.
Laser resurfacing treatments target specific areas with laser light to stimulate skin renewal and improve skin texture and tone. This treatment can reduce wrinkles, scars, sun damage, age spots and even out other skin imperfections. It is often used in combination with dermabrasion to achieve even better results.
There are also non-invasive, device-based cosmetic procedures to improve the appearance of aging skin, such as ultrasound treatments and radiofrequency (RF) devices. These treatments can help tighten sagging skin, reduce wrinkles and even out skin tone. They are often recommended by dermatologists as an effective way to achieve long-term anti-aging results without resorting to surgical procedures.
B-FORMANCE: Anti Aging for face & body in only 25 minutes
The revolutionary B-FORMANCE method was developed after extensive clinical studies and combines the benefits of ultrasound and mesoporation treatments with specially developed active ingredients for visible anti-aging effects, skin smoothing and body shaping – all in just 25 minutes! Non-invasive mesotherapy is enhanced by the application of electrical pulses to work the active ingredients deeper into the skin and tissue layers. This allows rapid absorption of nutrients by the skin and achieves lasting results.
Ultrasound treatments , on the other hand, use high-frequency waves that convert energy into heat and trigger a mechanical effect. This action sets tissue molecules in motion, resulting in pressure changes in the tissue. This delivers fluid to the tissues and realigns and tightens the collagen fibers. The unique effect of ultrasound is now used in many areas, including therapies and beauty treatments.
Innovative anti-aging device for skin tightening from head to toe
With our new anti-aging device, we offer a wide range of applications for stunning effects from head to toe. B-FORMANCE is an innovative device used in professional beauty medicine and aesthetics due to its doubling effect of mesoporation by ultrasound waves. The specially developed active ingredients are deeply absorbed into the skin and create instant effects that are long-lasting.
The two ergonomic applicators in different sizes allow highly efficient application to different parts of the body.
Due to the deep action of the handpieces, the treatment products are optimally incorporated into the skin and achieve maximum effect. B-FORMANCE is therefore ideal not only for reducing dark circles and bags under the eyes on the face, but also for remodeling, toning and smoothing the entire body. Convince yourself of the numerous possibilities offered by our anti-aging device.
With the B-FORMANCE facial application, you can counteract dry and thin skin and fight the natural signs of time and the effects of photoaging such as wrinkles or skin spots. The anti-aging device delivers first-class results on sagging skin and restores the original facial contours, leaving your face looking more refreshed and fresh after the treatment.
For the body, the B-FORMANCE treatment especially reduces cellulite and improves aesthetic imperfections such as sagging skin. Fat deposits are visibly reduced already after the first application and at the same time the skin gets tone and elasticity. Skin spots are soothed and the draining effect is stimulated. Say goodbye to unwanted imperfections and let the effect of B-FORMANCE treatment convince you.
Anti Aging device from WELLCOTEC, the market leader for Apparative Cosmetics & Medical Beauty
With our B-FORMANCE Anti Aging device, we not only provide you with a powerful technology for skin tightening , but also with the associated high-quality and ISO-certified business processes of our company, which have been checked and confirmed for years by DEKRA and the German Association for Accreditation. As a market leader in Apparative Cosmetics & Medical Beauty with over 35 years of expertise, we always strive to offer our customers the best service: Expert advice, intensive and certified training in theory and practice, print and digital marketing, and technical support.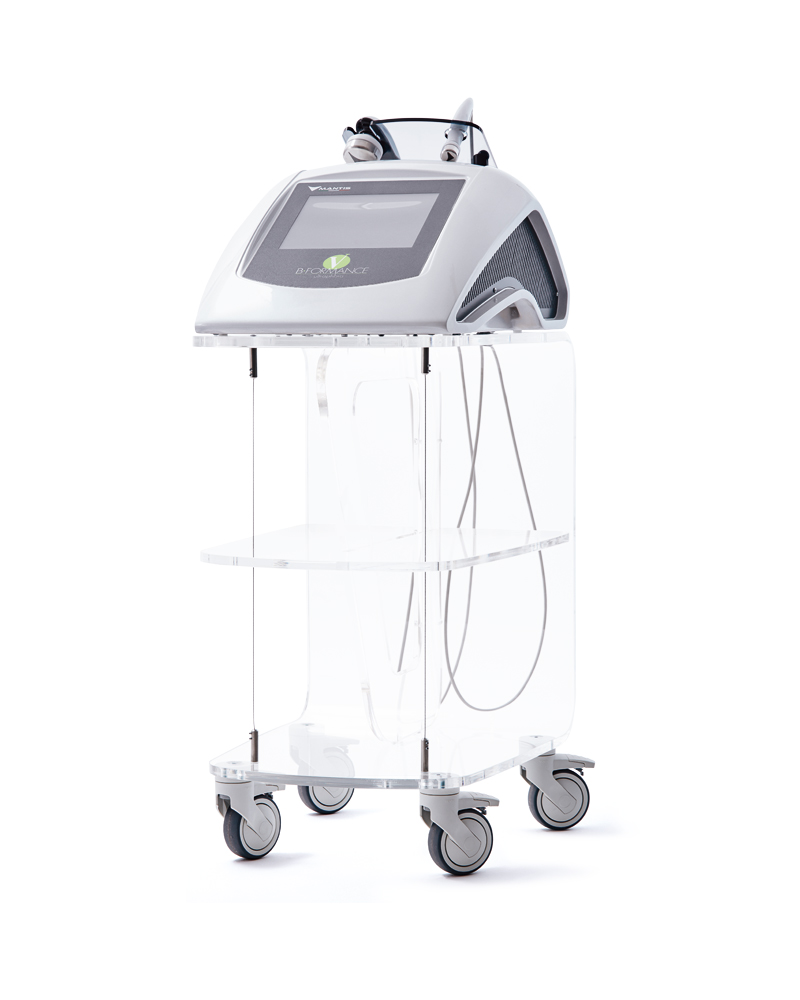 Buy our Anti Aging device now or pay it off in installments - without down payment!
In cooperation with our leasing & financing partners we offer you the possibility to purchase our B-FORMANCE Anti Aging device at flexible leasing conditions. This saves you higher investment costs and, thanks to the lucrative rates, you are already working economically profitable in the first month.
The term of the lease can be selected flexibly, and no down payment is required. However, a prerequisite for such commercial leasing is always an existing business with a good credit rating. As a service, we offer you a free and non-binding leasing pre-audit.
Alternative devices to the B-FORMANCE Anti Aging device
Buy our B-FORMANCE Anti Aging device & gain customers directly with BEAUTYLOCALS!
BEAUTYLOCALS is our new online portal for beauty service providers to acquire new customers - soon also available as an app in all app stores!