Get to know our F2000B-PRO SHR ICE diode laser in 1 minute
Permanent hair removal: from IPL devices to SHR diode lasers
Permanent hair removal is a cosmetic, apparative procedure that permanently removes unwanted hair from the face, legs, arms, armpits, back and other areas of the body. It is an increasingly popular solution for those who have to put up with the daily hassle of waxing and shaving. The most common techniques for permanent hair removal are light & laser treatments.
Light treatments mainly include the IPL method. IPL is the abbreviation for "intense pulsed light". In this procedure, individual light pulses with very high energy are applied to the skin area to be treated. The hair melanin, i.e. the dye, has the task of transferring the light energy to the hair papilla and destroying it. The darker the hair, the higher the melanin content and the more effective the permanent hair removal.
Conversely, this means that IPL hair removal is not very effective for lighter hair colors. In this context, it is also important to consider the respective skin type or skin color. This is because the high light energy can also inadvertently focus on the skin's melanin. In other words, if the skin is darker than the hair, then there is a risk of skin injuries or burns. Thus, IPL devices are not suitable for every type of client.
Based on these findings, the laser or diode laser technology for permanent hair removal was developed. In this procedure, multiple laser pulses per second at lower single-pulse energy are glidingly applied to the skin (SHR). This is the great advantage that the energy is not only directed to the melanin in the hair (and thus all hair colors and skin types can be treated), but through the SHR multi-pulse gliding procedure a moderate subcutaneous heating is generated, as a result of which the proteins at the hair roots are destroyed. Further hair growth is henceforth excluded.
The SHR diode laser with a wavelength of 808 NM or 810 NM has turned out to be the most efficient technology in the field of laser hair removal. In combination with other wavelengths such as 755/760 NM (the typical Alexandrite laser wavelength) as well as 1064 NM (the typical Nd:YAG laser wavelength), possibilities have recently been developed with which various hair structures can be energetically detected and treated even better. So-called SHR ICE diode lasers are also characterized by particularly strong skin contact cooling, which makes the treatment as painless as possible.
F2000B-PRO ICE diode laser: Optically smart - technically heavy
The F2000B PRO ICE diode laser is a revolutionary system that makes permanent hair removal possible from as little as 5 sessions. Compared to IPL devices and other methods of apparative hair removal, diode laser technology is particularly convincing due to its speed and efficiency. With powerful 3 wavelengths of 755 NM, 808 NM and 1064 NM, the F2000B-PRO is suitable for all skin & hair types. The alexandrite wavelength is particularly suitable for fine and light hair, while the golden diode hair removal wavelength is the perfect choice for those seeking thorough hair removal. Yag wavelength is ideal for dark or tanned skin types.
The F2000 PRO is not only powerful, but also incredibly light and easy to handle. With a weight of only 35 kg, it is particularly transportable and flexible in the place of use. The applicator is particularly lightweight and allows the user to easily perform longer treatments. The device also features integrated skin contact cooling (ICE) for a relaxed and comfortable treatment experience. Laser hair removal has never been so smart and cool as with the F2000 PRO ICE diode laser!
One of the outstanding features of the F2000 PRO ICE diode laser is that it can be used on all skin types (1-6). Whether very light or very dark skin tones, the laser is suitable for all skin types. In addition to treating different skin types, the F2000 PRO SHR laser also shows its effectiveness on any hair texture. Fine, thin hairs or coarse, thick hair structures – the laser removes them all effectively and permanently.
ICE diode laser from WELLCOTEC, the market leader for Apparative Cosmetics & Medical Beauty
With our F2000B-PRO ICE diode laser, we not only provide you with a smart & mobile technology for permanent hair removal, but also with associated high-quality and ISO-certified business processes of our company, which have been checked and confirmed by DEKRA and the German Association for Accreditation for years. As a market leader in Apparative Cosmetics & Medical Beauty with over 35 years of expertise, we always strive to offer our customers the best service: Expert advice, intensive and certified training in theory and practice, print and digital marketing, and technical support.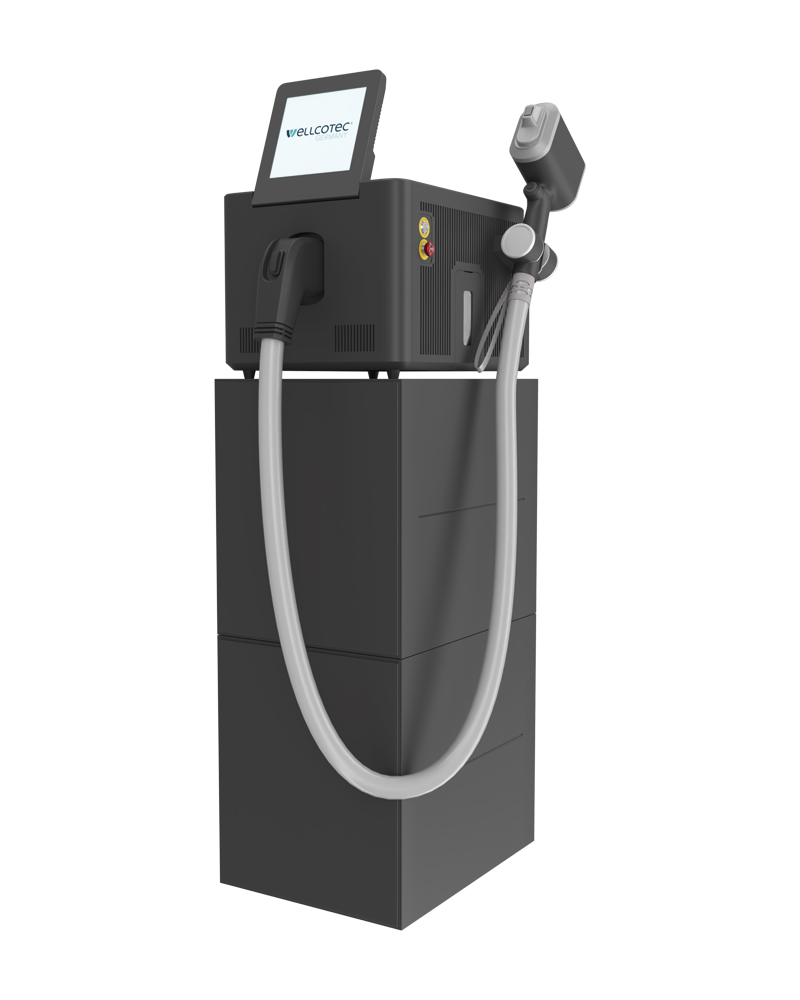 Buy SHR ICE diode laser now or pay off in installments - without down payment!
In cooperation with our leasing & financing partners, we offer you the possibility to purchase our F2000B-PRO hair removal laser at flexible leasing conditions. This saves you higher investment costs and, thanks to the lucrative rates, you are already working economically profitable in the first month.
The term of the lease can be selected flexibly, and no down payment is required. However, a prerequisite for such commercial leasing is always an existing business with a good credit rating. As a service, we offer you a free and non-binding leasing pre-audit.
Alternative devices to the F2000B-PRO ICE diode laser
Buy our F2000B-PRO ICE diode laser & gain customers directly with BEAUTYLOCALS!
BEAUTYLOCALS is our new online portal for beauty service providers to acquire new customers - soon also available as an app in all app stores!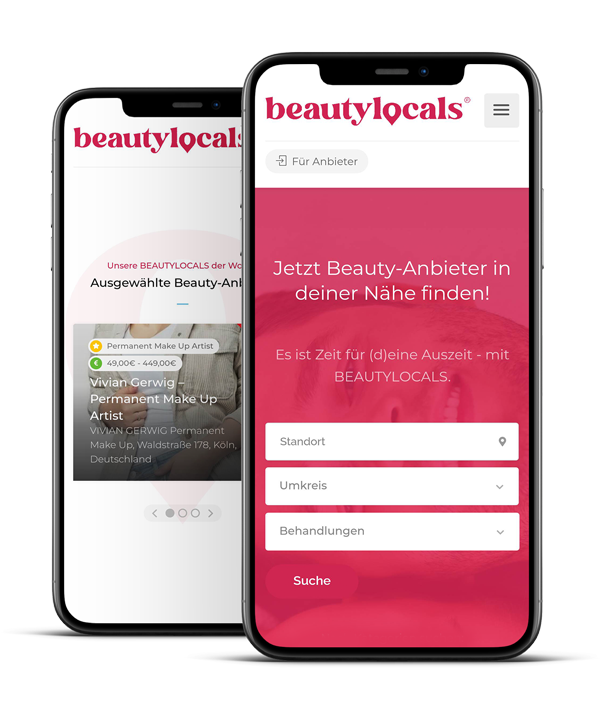 Things to know about permanent hair removal
For whom is permanent hair removal suitable?
Permanent SHR laser hair removal is suitable for anyone who wants to permanently eliminate annoying hair growth. Thanks to the latest hair removal technologies, especially by means of SHR laser or SHR diode laser, all skin types and hair colors can now be treated. Thus, permanent hair removal of the present is possible without restrictions for both women and men. However, the person concerned should be at least of age to ensure that there are no (pubertal) hormonal changes at the time of treatment that could affect the treatment outcome.
What are the notable methods and technologies for permanent hair removal in general?
A distinction is made between IPL devices and SHR lasers or diode lasers for permanent hair removal. Although electro-epilation procedures are also accessible on the market, IPL devices and laser technology as their successor have proven to be the most sustainable in recent decades.
SHR laser hair removal uses special wavelengths of high-frequency light that are sent specifically to the hair roots. Alexandrite, diode or Nd:YAG lasers (now also combined as triple technology, known as 3-wavelength SHR lasers or 3D hair removal lasers) are the most commonly used and ensure permanent removal of unwanted hairs by converting energy into heat, which obliterates the follicle and thus leads to the death of the hair. A renewed formation of the hair root is usually no longer possible afterwards. With only a few days after the laser treatment, the treated hairs fall out and henceforth also do not grow back – a long-term success without pain or skin irritation with professional application.
This method is particularly suitable for the painless treatment of sensitive areas of the body, such as parts of the face, as well as many other areas of the body.
However, to achieve a completely hairless result, it takes about four to eight sessions within a period of one month between each treatment session to ensure best results.
Unlike the SHR laser method, which emits a single, focused wavelength (or in the case of 3-wavelength diode lasers, three focused, bundled wavelengths) in high concentration, IPL permanent hair removal devices use a high-energy flash lamp over a broad, unfocused wavelength spectrum of the xenon light source.
Unfortunately, this method is not suitable for people with light or gray hair; only with dark hairs and light skin color good results can be expected. In addition, this method is quite painful, as it uses single pulses of light at high energy.
The user selects suitable parameters such as wavelength, energy density and pulse duration/sequence individually for each patient according to their skin/hair condition – therefore an expert should always be consulted.
Laser hair removal devices for home - Does it make sense?
In a nutshell: No. If you want a really permanent hair removal, you should definitely visit a professional hair removal studio that also works with a high-quality and powerful device – ideally with a SHR laser or diode laser. Because in order to achieve success in permanent hair removal, the correct fine-tuning of the hair removal device in relation to the respective customer is essential. In the case of self-application in one's own four walls by a layman, the tuning to one's own skin & hair types, logically, cannot be carried out in a targeted manner.
In addition, in the field of permanent hair removal, it is equally important that the device used meets certain performance standards, so that targeted heating of the hair follicles or subcutaneous tissue can be ensured. Due to the size of certain technical components, such as the energy generator or even the cooling system, promising hair removal lasers cannot be designed as a small handheld device – like the majority of home devices.
Will I receive training at WELLCOTEC when I purchase an ICE diode laser?
Yes, we will train you intensively in theory and practice when you buy or lease an ICE diode laser. Because it is of course our concern that you can work professionally and purposefully with our hair removal device – also in the sense of your customers. The training can take place at your site, at our site or partly online. Your entire team can participate in the laser training. We have been training in permanent hair removal for over 20 years.
Does WELLCOTEC also offer NiSV training for the ICE diode lasers in the area of "optical radiation"?
As a distributor of apparative cosmetics or ICE diode lasers, we are prohibited by law from offering NiSV training for them for reasons of unfair competition and lack of (device) neutrality. Therefore, in the interest of our customers, we have endeavored to enter into an intensive cooperation with BAGA, the largest and most professional provider of NiSV training in Germany. Thus, our customers have the opportunity to book discounted NiSV training courses through us at BAGA on the one hand, and on the other hand we offer interesting and financially lucrative NiSV equipment packages for the specialist module "Optical Radiation".
Can I lease or finance the ICE diode lasers from WELLCOTEC?
Through our various financing & leasing partners, you can conveniently pay off our ICE diode lasers in monthly installments at the most favorable conditions. Installment payments can be made without a down payment and for various terms, from 36 to 60 months. Upon request, we will be happy to provide you with a free and non-binding leasing & financing offer.