Medical Beauty & Apparative Cosmetics
from DACH market leader WELLCOTEC
WELLCOTEC is an ISO-certified full-service family business with high-quality, high-performance & exclusive beauty technologies developed and produced primarily in Europe. We have been pioneers for permanent hair removal, anti-aging & anti-cellulite treatment as well as body modeling in Germany, Austria & Switzerland for 38 years now. We offer our customers a complete package of consulting, equipment training, marketing service and in-house technical service.
What customers say about WELLCOTEC
Buy cosmetics & win customers directly with BEAUTYLOCALS!
BEAUTYLOCALS is our new online portal for beauty service providers to acquire new customers - soon also available as an app in all app stores!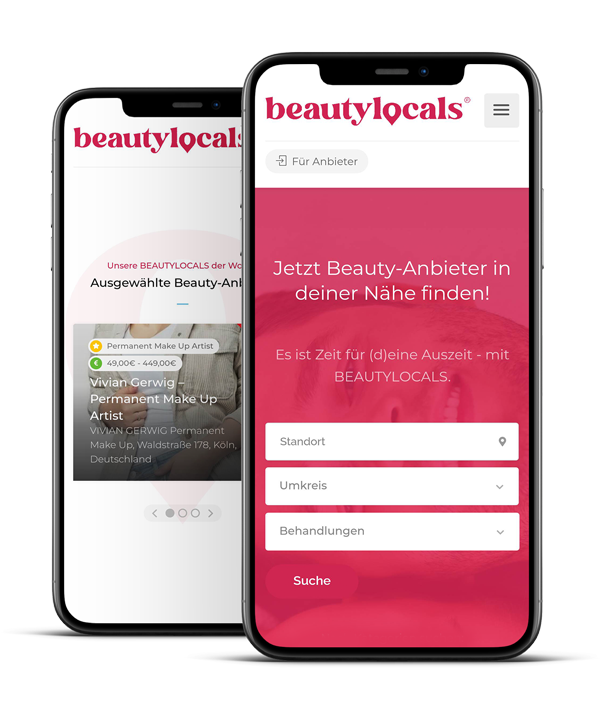 Interesting facts about WELLCOTEC
Can I test WELLCOTEC's apparative cosmetics?
We strongly recommend that you personally test our first-class Apparative Cosmetics and get to know our Aquafacial devices, SHR Laser & Co. among others. This will give you an immediate impression of the high quality of our equipment models and products, and you will be able to see clear differences in performance compared to other technologies on the market. In addition, with such an important purchase affecting your business success, it is essential to get to know the supplier of such equipment personally and gain insight into their business structures. Unfortunately, there are many dubious "manufacturers" and distributors who exist only online and make false promises.
So if you would like a personal consultation including a trial treatment, please feel free to make an appointment by e-mail, WhatsApp or phone. This allows our consultants to prepare optimally for the appointment with you.
What advantages does WELLCOTEC offer me as a partner for apparative cosmetics?
At WELLCOTEC, you can rely on over 38 years of expertise that makes us the absolute leader in the industry. We provide our clientele with a 360° service that includes expert advice, certified training, marketing support and repair services. Our company processes are certified by DEKRA and the German Association for Accreditation and thus offer the highest quality. Unlike other suppliers, we place equal emphasis on the high quality of workmanship of our equipment, so that our apparative cosmetics are predominantly developed and produced in Europe.
As an officially approved electrical contractor and E-Check partner, we offer our customers safe, proper and legally compliant repairs, maintenance and upgrades for our Apparative Cosmetics. This service also sets us apart from other providers.
Thanks to the close cooperation with our suppliers, production facilities and associations around the world that we have built up over the past decades, we always remain at the cutting edge in the field of apparative cosmetics and can respond to the needs of the market at any time. This enables us to continuously offer you innovative apparative cosmetics at an optimal price-performance ratio.
Will I be trained for apparative cosmetics at WELLCOTEC?
For more than 20 years we have been offering our professional trainings certified by the German Association for Accreditation against the background of our ISO-13485 quality management system. We specialize in training in the field of permanent hair removal and offer training for IPL devices, SHR devices, SHR laser or SHR diode laser, as well as Aquafacial devices and body technologies. Our training concepts have been developed by experienced experts and provide you with the necessary knowledge to work successfully and safely with our equipment.
Our trainings take place in theory and practice and are individually tailored to you and your team. We offer flexible training that can take place either directly at your site, at our own training center in Cologne, or online.
Do I receive technical service for the apparative cosmetics at WELLCOTEC?
Our customers can rest assured that, as an officially legitimized and approved electrical contractor as well as an E-Check partner, we will carry out all repairs, maintenance/inspections and upgrades for our innovative Apparative Cosmetics in compliance with safety, regulatory and legal requirements. These high standards significantly differentiate us from numerous other suppliers on the market.
Does WELLCOTEC also offer NiSV training for the device models affected by this?
As a distributor of Apparative Cosmetics, we are prohibited by law from offering NiSV training for reasons of unfair competition and lack of (device) neutrality. Therefore, in the interest of our customers, we have endeavored to enter into an intensive cooperation with BAGA, the largest and most professional provider of NiSV training in Germany. Thus, on the one hand, our customers have the opportunity to book discounted NiSV training courses through us at BAGA, and on the other hand, we offer interesting and financially lucrative NiSV equipment packages.
Can I lease or finance WELLCOTEC's cosmetic equipment?
Through our various financing & leasing partners, you can conveniently pay off our Apparative Cosmetics in monthly installments at the most favorable conditions. Installment payments can be made without a down payment and for various terms, from 36 to 60 months. Upon request, we will be happy to provide you with a free and non-binding leasing & financing offer.
Overview of our Apparative Cosmetics