Get to know our MICROTEC64 RF Microneedling device in just 60 seconds
Microneedling gives naturally aging skin a more youthful appearance
Microneedling is a minimally invasive treatment that involves puncturing the skin with tiny needles, which stimulates collagen production. This popular procedure promises smoother, firmer, more youthful-looking skin with minimal downtime and fewer potential side effects than many other treatments.
The procedure begins with the application of an anesthetic cream to the area of skin to be treated. The microneedling device is then passed over the skin surface in a series of gentle strokes. The accuracy and depth of the needle can be adjusted according to your specific needs and the desired result.
Although results vary from person to person, many clients who have undergone microneedling report a reduction in fine lines, wrinkles and acne scars on the face, as well as an overall improvement in skin texture, firmness and elasticity. In addition, the procedure can help reduce pore size and reduce pigment spots such as sun spots or melasma.
Generally, three to six treatments are recommended at four to six week intervals for optimal results. After treatment, there may be slight redness or swelling, which should subside within a few days. After a series of treatments, most clients can reap long-term benefits as fewer touch-up treatments are needed over time compared to alternative facial cosmetic treatments.
Small needles - great success in skin rejuvenation with our microneedling device
The origin of the microneedling approach lies in traditional Chinese medicine. However, due to the use of the latest technology, this method has recently been significantly improved and is being used more and more, especially in the field of apparative cosmetics to improve the appearance of the skin.
The Microneedling device allows you to gently and painlessly poke tiny micro-holes into your patients' skin during each treatment. At the same time, the natural protective function of the epidermis is preserved. The fully automated needles move up and down like a stamp, allowing application to the face, neck, décolleté and back of the hand. Especially in the area around the eyes, the formation of wrinkles can be visibly reduced.
Our microneedling device is suitable for a variety of skin types and can help achieve a younger and more vital appearance. Atrophic skin types can especially benefit from the method. Dry skin and wrinkles can be treated to regain their elasticity. Even sallow skin gets a boost from microneedling. Sun-damaged or smoker's skin can also be revitalized more easily.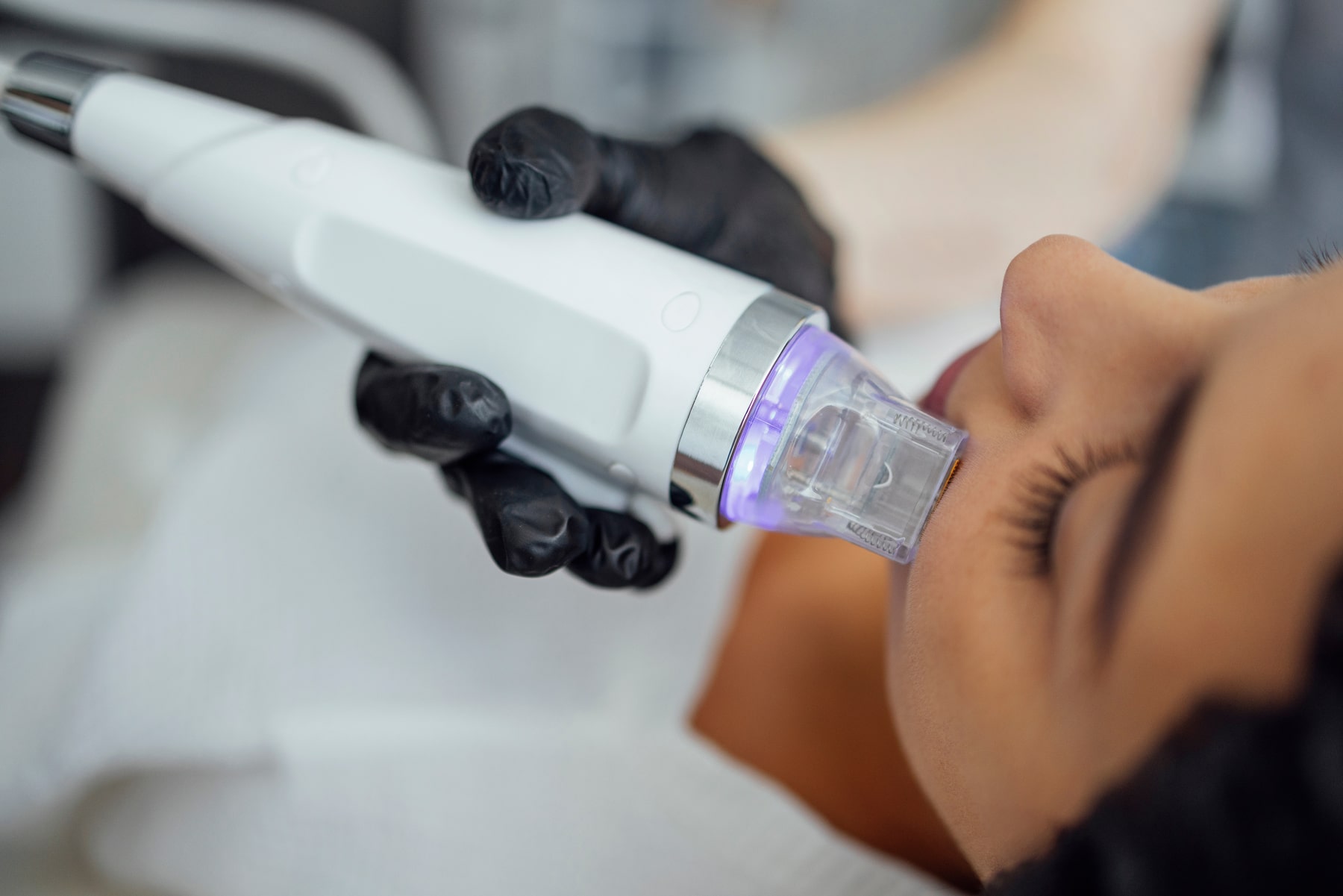 MICROTEC64 Microneedling device: Unbeatable effects in combination with radio frequency
Radiofrequency (RF) is especially popular in apparative cosmetics as a highly effective, non-invasive treatment. Radiofrequency treatment uses electromagnetic energy to heat the tissues, resulting in increased collagen production and improved skin texture. It can be used to treat wrinkles, improve skin sagging, reduce pore size and restore facial volume. RF treatments are non-invasive and safe for all skin types.
When microneedling is used in combination with radiofrequency, this is referred to as a fractional skin treatment, which stimulates collagen production in the underlying layers of the dermis. As a result of the targeted treatment of the deeper layers of the skin, the "building blocks" are formed anew. RF Microneedling is a minimally invasive method of skin rejuvenation and ignites the body's own natural healing processes to optimize the appearance of the skin.
Due to the radiofrequency microneedling double effect, however, not only anti-aging effects can be achieved, but equally a fading of scars can be achieved, which have been caused by acne, for example. The new formation of collagen is responsible for this. Our MICROTEC64 microneedling device provides a safe, fractional penetration depth of up to 3.5 mm – with either 36 or 64 needles acting simultaneously. The dermis remains completely undamaged thermally. RF Microneedling treatment is also safe to use on skin type VI.
Microneedling device from WELLCOTEC, the market leader for Apparative Cosmetics & Medical Beauty
With our MICROTEC64 microneedling device, we provide you not only with a professional technology for skin revitalization, but also with associated high-quality and ISO-certified business processes of our company, which have been checked and confirmed for years by DEKRA and the German Association for Accreditation. As a market leader in Apparative Cosmetics & Medical Beauty with over 35 years of expertise, we always strive to offer our customers the best service: Expert advice, intensive and certified training in theory and practice, print and digital marketing, and technical support.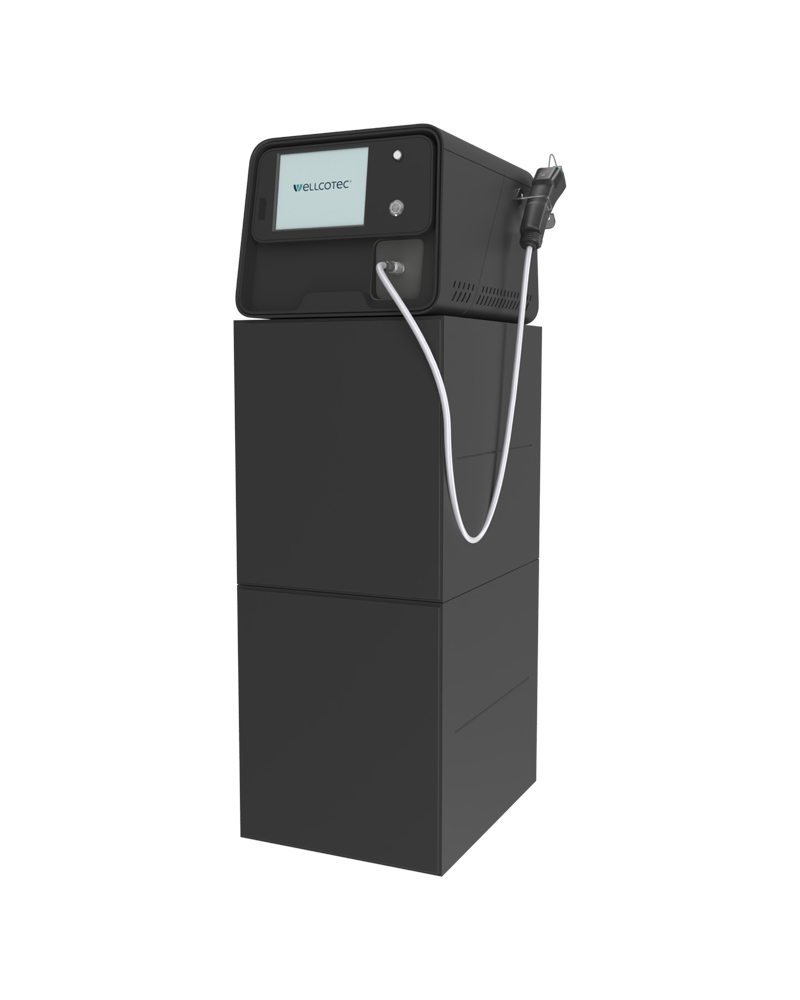 Buy RF Microneedling device now or pay it off in installments - without down payment!
In cooperation with our leasing & financing partners, we offer you the possibility to purchase our MICROTEC64 microneedling device at flexible leasing conditions. This saves you higher investment costs and, thanks to the lucrative rates, you are already working economically profitable in the first month.
The term of the lease can be selected flexibly, and no down payment is required. However, a prerequisite for such commercial leasing is always an existing business with a good credit rating. As a service, we offer you a free and non-binding leasing pre-audit.
Alternative devices to the MICROTEC64 RF Microneedling device
Buy our MICROTEC64 RF Microneedling device & gain customers directly with BEAUTYLOCALS!
BEAUTYLOCALS is our new online portal for beauty service providers to acquire new customers - soon also available as an app in all app stores!