Our HYDRA4FACE 300 Aquafacial device presented in 90 seconds
Deep cleanse and revitalize the facial skin with Hydra Dermabrasion
Nowadays, it is impossible to imagine modern cosmetics without a professional facial treatment. Facial treatment methods are very diverse and range from manual techniques supported by skin care products or mechanical devices to apparative cosmetic procedures suitable for use in beauty salons and medical treatment centers.
Manual methods of facial treatment include, for example, the application of moisturizing and skin-rejuvenating peels or masks, as well as the manual performance of facial massages to remove dead skin cells and improve the appearance of the skin, among other things. Apparative cosmetics, in turn, represents a set of different techniques used in conjunction with special machines. For many years, these have included laser devices, radio frequency devices, ultrasound devices and microdermabrasion devices.
The latest trend in the apparative-cosmetic field for facial treatment is our HYDRA4FACE 300 Aquafacial device, which includes Hydra Dermabrasion as the main application, but also includes some of the technologies listed above. Hydra Dermabrasion is a revolutionary facial treatment that is currently considered an effective solution for cleansing and nourishing the skin. This process combines the use of a special exfoliating ingredient with small crystal particles and hydraulic pressure to gently remove dead skin flakes and stimulate the regrowth of new cells.
This technical combination provides a deep facial cleansing that stimulates the production of collagen and elastin – and could not be achieved in intensity by manual procedures. Hydra Dermabrasion leaves skin clean, smooth and with a radiant complexion. It has proven to be effective in reducing the visibility of wrinkles and lines, as well as acne scars. In addition, it is a fast and gentle treatment that usually does not cause side effects.
Our HYDRA4FACE 300: Next generation aquafacial device with made-in-Germany active ingredients
The HYDRA4FACE 300 from WELLCOTEC is undoubtedly the most advanced and comprehensive aquafacial device on the market. It thoroughly cleanses the facial skin, gives it lasting vitality and instantly beautifies it. The specially developed and certified Hydra4Face treatment fluids, manufactured in Germany by WELLCOTEC, provide the skin with unparalleled nourishment and care. The combining & special technology of vacuum & liquid leads to a deep pore cleansing with subsequent supply of vitamins, antioxidants and minerals.
Thanks to the 10 different technologies and 14 applicators of the HYDRA4FACE 300 Aquafacial device, there are numerous treatment options that allow for an all-around facial treatment with an intensity and effectiveness that has never been seen before. The result is even longer lasting results with instant action & glow effect! The skin texture is homogeneous, soft and radiant immediately after the treatment.
Our high-quality Aquafacial treatment ingredients are produced exclusively in Germany and meet the highest quality standards. We use only first-class raw materials and have registered our products in the European Cosmetic Products Notification Portal. Due to the ideal mixing ratio of the most important raw materials in our liquids, your facial skin is optimally vitalized and beautified.
To help you get the most out of every Aquafacial treatment for your clients, we have designed a total of 4 ready-to-use liquids that build on each other step by step: Hydro Intensive Cleansing (S1), Hydro Fruit Acid Peeling (S2), Hydro Hyaluron Booser (S3) and Hydro Cleaning Solution (S4). Our Aquafacial active ingredients have been specially developed for use with our HYDRA4FACE 300, but are equally compatible with other Aquafacial devices. With us and our active ingredients you rely on quality and effectiveness!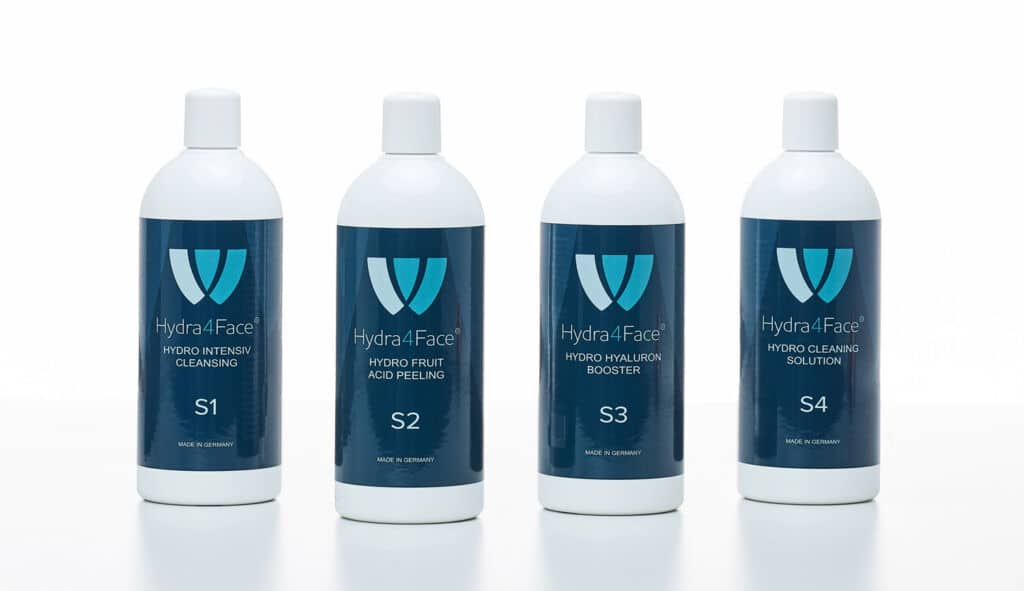 More applicators - More possibilities - More success
With our HYDRA4FACE 300 Aquafacial device, we offer not only the proven Hydra-Dermabrasion, but also other applications to achieve even more impressive results. This allows you to offer your customers customized treatment packages that are perfectly tailored to their individual needs. Our innovative technology allows us to deeply cleanse and nourish the skin at the same time for a radiant and healthy appearance. Our HYDRA4FACE 300 Aquafacial device offers you the following applications:
Skin Scrubber: Before Hydra-Dermabrasion, the skin scrubber applicator is used to open the pores on the surface of the skin and extract sebum and dirt. This ensures thorough cleansing of the skin and optimally prepares it for the subsequent treatment.
Hydra-Dermabrasion: Our Hydra-Dermabrasion applicator enables gentle removal of the superficial skin layer and dead cells. At the same time, intensive cleaning of the pores is ensured by our high-quality active ingredients. Thanks to this innovative technology, your skin acquires a radiant and healthy glow.
Silicone Hydra-Dermabrasion: Our exclusive Hydra-Dermabrasion applicator with an innovative silicone attachment is specially designed for sensitive skin types. It offers a gentle way to remove the top layer of skin and dead skin cells, while at the same time our unique combination of active ingredients can penetrate deep into the pores for effective cleansing. Pamper your skin with this revolutionary device and enjoy a smoother, more radiant complexion!
Diamond Microdermabrasion: By using the diamond microdermabrasion applicator, it is possible to perform effective exfoliation. This has the positive effect of shrinking the pores of the face, reducing skin wrinkles and smoothing skin imperfections, such as acne. By using this innovative tool, the skin is regenerated in a gentle way and shines with a new glow.
Radiofrequency (bipolar & tripolar): To tighten the skin and smooth wrinkles, we use radiofrequency over 2 poles (bipolar) and 3 poles (tripolar), which generates deep heat and tightens the aging, inelastic skin fibers.
Bio-microcurrent: Through the application, we improve microvascular circulation by activating the molecules responsible for cell metabolism and the formation of collagen and elastin.
Vacuum Pens: By using vacuum pens, lymphatic drainage is performed on the face, creating a negative pressure effect and activating lymphatic flow. This reduces toxins and mild skin swelling, resulting in a refreshed and healthy appearance.
Oxygen Spray: As a final step of the treatment, the Oxygen Spray can be used, which sprays the active ingredients and fragrance essences onto the skin in a finely atomized form, thus ensuring a pleasant skin feeling.
Bio-Photon Lights (red/blue/green): Bio-photon therapy uses red, green, and blue light, as well as combinations of different light colors and waves, to soothe and degrease the skin, promote cell regeneration, and aid in wound healing.
High-tec Aquafacial device from WELLCOTEC, the market leader for Apparative Cosmetics & Medical Beauty
With our HYDRA4FACE 300 Aquafacial device, we provide you not only with a revolutionary facial treatment technology , but also with associated high-quality and ISO-certified business processes of our company, which have been checked and confirmed by DEKRA and the German Association for Accreditation for years. As a market leader in Apparative Cosmetics & Medical Beauty with over 35 years of expertise, we always strive to offer our customers the best service: Expert advice, intensive and certified training in theory and practice, print and digital marketing, and technical support.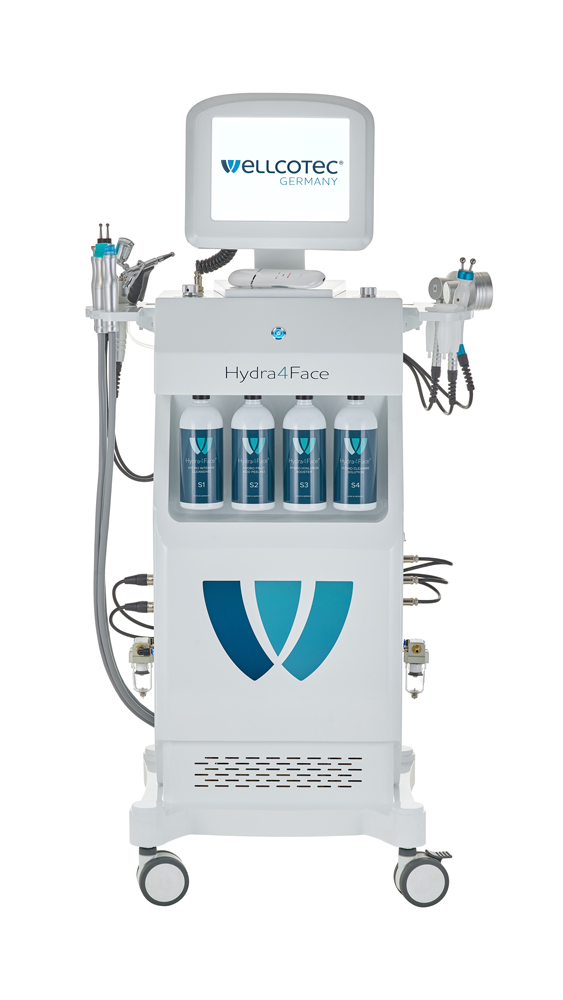 Buy Aqua Facial device now or pay off in installments - without down payment!
In cooperation with our leasing & financing partners, we offer you the possibility to purchase our HYDRA4FACE 300 Aqua Facial device at favorable leasing conditions. This saves you higher investment costs and, thanks to the lucrative rates, you are already working economically profitable in the first month.
The term of the lease can be selected flexibly, and no down payment is required. However, a prerequisite for such commercial leasing is always an existing business with a good credit rating. As a service, we offer you a free and non-binding leasing pre-audit.
Matching products to the HYDRA4FACE 300 Aquafacial device
Alternative devices to the HYDRA4FACE 300 Aquafacial device
Buy our HYDRA4FACE 300 Aquafacial device & gain customers directly with BEAUTYLOCALS!
BEAUTYLOCALS is our new online portal for beauty service providers to acquire new customers - soon also available as an app in all app stores!