Get to know our MR991 Anti Cellulite Device in 180 seconds
Apparative endomassage as a proven method against cellulite - for a healthy, toned and purified body.
The desire for a beautiful as well as aesthetic body shape is ubiquitous and independent of gender and age. But few people achieve this ideal with sport, discipline and renunciation. The majority of them struggle with annoying fat deposits and skin imperfections on different parts of the body, as well as the notorious hip gold. Diets and supplements promise little success.
But now modern cosmetics has found an effective alternative to refine the body silhouette in a targeted manner: with the MR991 Endomassage & Anti Cellulite device, fast, gentle and painless body contouring can be performed without surgical intervention. Results are visible after just a few weeks. But most of all, this procedure helps against deep-fiber cellulite in stages 1 to 3.
Cellulite can develop in the subcutis, which is the lowest layer of skin. Endomassage is an effective way to get rid of those pesky dimples. This involves working on the subcutaneous fatty tissue with the help of roller and suction massages. Through the targeted use of negative pressure and two adjustable rollers, the skin is mobilized down to the deepest layers. This in turn strengthens not only the collagen fibers of the connective tissue, but also the muscle fibers.
This special massage activates the lymphatic system, metabolism and blood circulation. This stimulates fat reduction andstimulates theproduction of collagen and elastin. The result: a firmer and smoother skin. During lipomassage you will wear a thin suit that resembles a stocking. To achieve the desired success, several sessions are necessary. But already after the first treatment the treated zones feel improved. Tissues are loosened and congestion is squeezed, resulting in less dense and compact skin. Endomassage can also be used primarily to relieve pain, improve mobility, relieve inflammation and improve muscle tone.
MR991 Anti Cellulite & Endomassage Device: The Latest Generation of Body Aesthetics
MR991 is a breakthrough solution for the treatment of aesthetic blemishes. Through its innovative endomassage technology has found a natural and gentle way to restore tone and elasticity of the skin. With pulsating magnetic fields it supports especially the reduction of cellulite.
The combination of two innovative technologies in a negative pressure system (D.E.S.) makes the MR991 Anti Cellulite device a unique, non-invasive treatment method against cellulite and skin aging (anti-aging). At the same time, the patented procedure promotes general well-being as well as cell regeneration by having a positive influence on the entire organism of the body.
The M.R.M. technology (Mechanical Endomassage with Motorized Rollers) revolutionizes the way of endomassage and brings numerous advantages. It not only promotes the metabolic processes of the skin and subcutaneous fatty tissue, but also stimulates the permeability of connective tissue and the flow of blood and lymph. Particularly noteworthy is the targeted effect on fat cells and their membranes, which can be treated even more profoundly and sustainably thanks to the patented suction and rolling technique. Thus, compared to manual massage, this technology is more effective and achieves better results.
C.M.P.S. technology, in turn, relies on electromagnetic treatment with irregular stimulation pulses to destabilize the fat cell coating and make it permeable. The results are immediately visible and include a significant smoothing of the skin and a reduction of cellulite. In addition, the elasticity of the tissue is restored and permanently preserved. The increased oxygen supply prepares the breakdown of destabilized fat cells. This technology is therefore the ideal option for effective treatment of cellulite.
Insights into the treatment with our MR991 Face & Body technology
4 different applicators for all zones of the body
The MAXI DES handpiece has rollers that rotate in different directions and use a pulsating suction system and the electromagnetic stimulation pulses. It is perfect for effective treatment of larger body parts such as hips and buttocks. The smaller version of the applicator, the MINI DES, is ideal for smaller body areas
The effective technology of the MAX ENERGY handpiece basically causes a shock therapy on the subcutaneous fat cell layer, which leads to an effective fight against fat deposits. In combination with special deep-acting creams you can achieve high efficiency in fat reduction.
The VIXO handpiece is equipped with a special C.M.P.S. technology that specifically treats blemishes, wrinkles and sagging skin on the face. Due to the depth effect, specially developed cosmetic products can penetrate the skin particularly well and ensure long-lasting success.
Anti Cellulite & Endomassage Device from WELLCOTEC, the market leader in Apparative Cosmetics & Medical Beauty
With our MR991 Anti Cellulite device, we not only provide you with an advanced technology to fight cellulite, but also associated with it, high-quality and ISO-certified business processes of our company, which have been verified and confirmed for years by DEKRA and the German Association for Accreditation. As a market leader in Apparative Cosmetics & Medical Beauty with over 35 years of expertise, we always strive to offer our customers the best service: Expert advice, intensive and certified training in theory and practice, print and digital marketing, and technical support.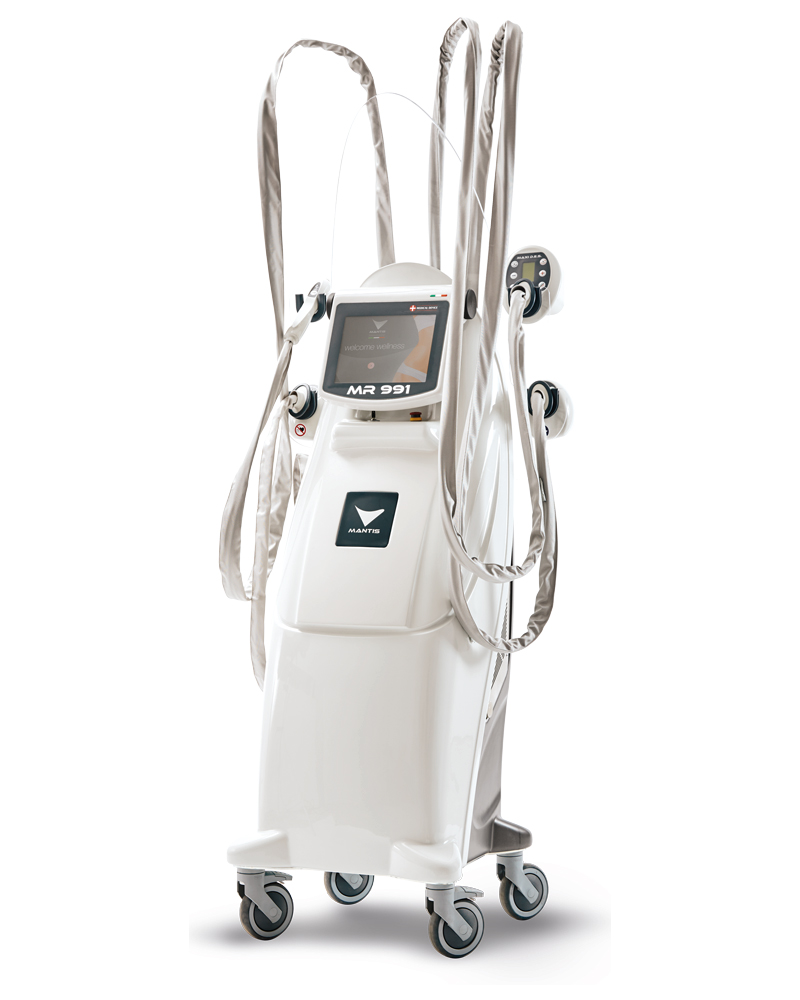 Buy our Anti Cellulite & Endomassage device now or pay it off in installments - no down payment required!
In cooperation with our leasing & financing partners, we offer you the possibility to purchase our MR991 Anti Cellulite device at flexible leasing conditions. This saves you higher investment costs and, thanks to the lucrative rates, you are already working economically profitable in the first month.
The term of the lease can be selected flexibly, and no down payment is required. However, a prerequisite for such commercial leasing is always an existing business with a good credit rating. As a service, we offer you a free and non-binding leasing pre-audit.
Alternative devices to MR991 Anti Cellulite & Endomassage Device
Buy our MR991 Anti Cellulite & Endomassage Device & gain customers directly with BEAUTYLOCALS!
BEAUTYLOCALS is our new online portal for beauty service providers to acquire new customers - soon also available as an app in all app stores!